Contact us to find out more about our services.
About Us
Ramky Cleantech Services Pte Ltd (RCSPL) and Ramky Solutions Pte Ltd (RSPL) are wholly owned subsidiaries of Ramky Group – a leading multi-disciplinary regional infrastructure development and environmental management solution provider in India. We focus our resources on what we do best. Our core business areas of facilities services include Environmental Services, Car Park Management and Environmental Training.
The companies relies on its team of dedicated and professionally trained staff to improve efficiency and effectiveness in delivering the company's quality services. Committed to providing best practices to enhance facilities management, we offer our valued clients customised solutions that effectively respond to their business challenges. Whether it is an office building, an industrial facility, a housing estate, the public streets, car park management or training services, we recognise that only a capable and experienced team can meet the challenges.
Vision
Ramky shall be a leading global enterprise in world – class infrastructure development & environment management through sustainable growth.
Mission
Ramky shall ensure quality, timely and budgetary deliverances through continuous technology upgradation, thereby enhancing the value of all its stakeholders.
Values
At Ramky we cherish our VALUES.
We expect all our employees to internalize and uphold the Ramky Values in the way we conduct our business every day, every way.
Integrity
Quality, Timely & Budgetary deliverance
Customer Satisfaction
Safety, Health & Environment
Innovation
Social Commitment
OUR CORPORATE PHILOSOPHY
At Ramky, we recognize that people are our key asset. That's why we have developed practices that demonstrate our commitment to attracting the most creative and highly qualified professionals across the world. We make every effort to create a working culture and environment that inspires our people to stay with us. We call this our Pyramid of Success.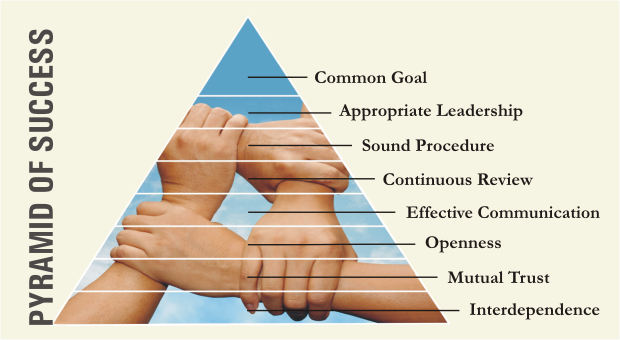 At Ramky, we believe that wealth creation through sustainable means is the greatest challenge facing every economy today. To enable a smarter, environmentally and socially responsible way of life for today, and for generations to come, we have made sustainable development our mission.
A sustainable business model for us means to:
Make the best use of available resources by curbing depletion and increasing reinvestment
Create infrastructure that enhances the quality of life
Not squander away the opportunities / natural assets available to us.
Ramky Group today has transcended geographical and cultural boundaries and is serving the needs of many countries in the world. As we continue to tread the path of sustainable growth across industries and countries.
We will continue to be steadfast in our ethical, transparent and value-added business practices, our integrity and respect for long-term relationships.
Shri Alla Ayodhya Rami Reddy
Founder
Ramky Group